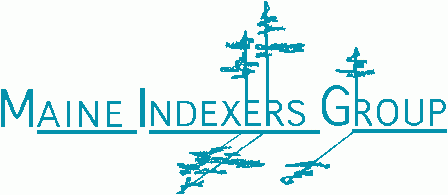 The Maine Indexers' Group was established in 1993 to support and promote north-country indexers and their work in related fields. It is the group's mission to provide an active network of professionals who share their expertise for the education and benefit of all of our members, and to serve as a valued resource for the publishing industry.
As our name suggests, we began as an association of Maine people who write indexes. But many of our members have other publishing skills as well. We have printed this brochure as a guide for publishers and authors searching for the right freelancer for the job at hand, whether it be indexing, editing, proofreading, research, or other tasks in the information sciences. Our members are competent, experienced, and smart. Your project deserves no less.

Local knowledge.
The Maine Indexers' Group currently has more than three dozen members in the three northern New England States, including specialists in
Art
Asian studies
Foreign languages
History (medieval, American, Chinese)
Medicine
Philosophy
Science
MIG members' special knowledge has made them valued collaborators in the production of a wide variety of recent titles such as Seymour Hersh's The Dark Side of Camelot (Little, Brown), A History of Women (ed. Georges Duby: Harvard University Press), Aicher's Guide to the Aqueducts of Rome (Bolchazy-Carducci) and the monograph Small Woodlot Owners of Maine.

Fresh eyes.
A fresh look by a new pair of eyes can catch errors which previous readers have missed through repetition. MIG's experienced freelancers can be trusted to spot and report potentially embarrassing mistakes which have escaped the notice of author and editor alike.

Helpful referrals.
We don't believe in sending anyone away empty-handed. Whether inquiring by phone, in the post, or on e-mail, you'll be directed to skilled professionals ready and able to meet your needs.



The contact person for Maine Indexers' Group is Pat Perrier